Think! women's footwear
•
Posted on May 24 2023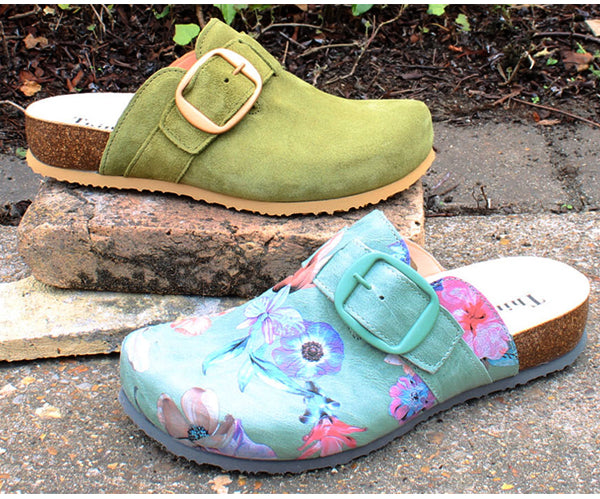 The Think! brand is best known for its quirky designs and beautiful soft, coloured leathers. 
As far as possible Think! use vegetable-tanned leather, using natural materials to tan the leather hides.  Tanning using chemicals is very damaging to the environment and tonnes of water are required for the tanning process.  Sadly, when the waste water is released into the surrounding environment, many chemicals go with it, including heavy metals such as chromium.    
Think! avoid this by using chrome-free vegetable tanning methods.
Their original styles, together with the soft, colourful leathers and supportive footbeds ensure comfort for your feet while not sacrificing individuality.
At Shoegarden we stock the classic Julia sandals, ever popular for their comfort and eye-catching style.  This season we also have the Julia 247 sandal, made on the same footbed but a slider style, so perfect for those who don't like to wear a toe-post.  And we also have the beautiful Julia leather clogs in 2 colours, a gorgeous green suede and a stunning flower-patterned leather. 
All these styles feature the supportive and comfortable cork footbeds, durable rubber outsoles and of course the heart-shaped shock-absorber under the heel.
If you're thinking that you'd like to have a look at the Think! footwear, you can see our collection of Think! women's sandals and clogs here:
https://www.shoegarden.co.uk/search?q=think