How to clean your leather, nubuck & suede shoes
•
Posted on May 10 2021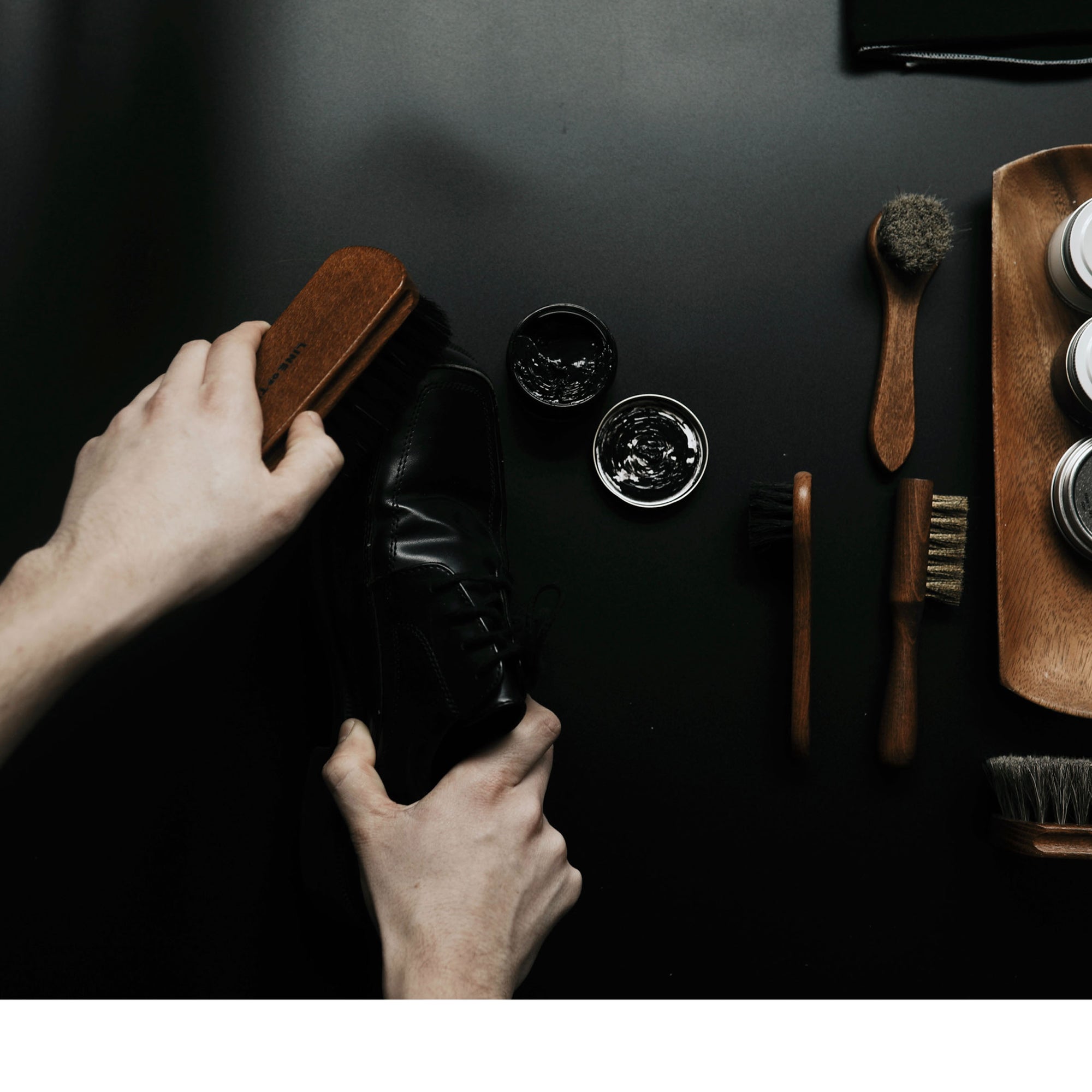 How to clean leather, nubuck & suede shoes
Leather shoes
If your shoes are muddy, allow the mud to dry then brush off.  A damp cloth can be used to wipe off dirt but it should only be slightly damp, not wet.  Once the shoes are dry, use a soft-lint free cloth to apply some leather cream in a matching colour. 
Using lint-free cloths prevents leaving traces of fluff on the shoes – a piece of an old t-shirt will work fine, there's no need to buy a special cloth.  Allow the leather cream to dry; you can buff the shoes with a soft brush or clean cloth if you want to achieve more shine. 
On softer leather shoes, a cream tends to penetrate and nourish the leather better than a harder wax polish, like those that come in a tin.  Wax polishes can give a very high shine finish but don't nourish the leather as effectively.  However they can be very good at covering scuffs and are therefore handy for children's shoes.
If you can't find a matching colour shoe cream, just use neutral.  This will still hydrate the shoes and improve their appearance.    
Nubuck shoes
Nubuck is the same as leather but the uppermost surface of the hide has been buffed away, leaving a soft velvety finish leather. It can be very useful to use protector spray on nubuck shoes to help to keep them clean and water resistant. 
Apply the protector spray when the shoes are new and then periodically, depending on how often you wear them.  The spray will initially darken the colour of the nubuck, but this will fade as it dries.
To clean dust & light dirt from the shoes, use a nubuck/suede sponge and lightly brush over the surface.  These sponges are used dry.  The edge of the sponge can be used to remove more stubborn marks. 
You can use a foaming cleaner for suede & nubuck to remove stains, but it's worth testing on an inconspicuous area first.  Apply the foam in a gentle circular motion, then when it's dry, brush the nap back up with your sponge. Alternatively try a harder cleaning block, also called a nubuck eraser, for stubborn marks and small stains.  Gently rub the block over the stained area to remove it.  
- You can also use rubber brushes on nubuck, however beware using these on oiled nubuck – the spines of the brush can leave marks in the surface. 
Instead use a sponge to clean, then apply a thin layer of oiled leather cream.  This neutral cream will maintain the matt, waxy finish of the shoe and maintain its water-repellency.
- If your nubuck shoes have faded in colour, try a nubuck & suede liquid renovator.  This product comes in a variety of colours, so obtain the best match you can.  After cleaning the shoes with your sponge, apply the renovator to refresh the colour and rejuvenate the nubuck.  Once dry, brush over lightly again with the sponge. 
! Note that this product doesn't clean the shoes, it refreshes the colour.  It is also available in neutral, which is handy if you can't match the colour – it will still rejuvenate the appearance of your shoes.
Suede shoes
Suede is the underside of the animal hide and has a longer nap than nubuck.  It is made by splitting a hide and is therefore not as thick as full grain leather, so it tends to be more delicate.  However, it is beautifully soft and lighter than full grain leather.
Care for suede is the same as for nubuck – use protector spray and brush with a nubuck/suede sponge.  You can also use a wire or rubber suede brush on this type of leather.  Like nubuck, liquid renovators can be used to rejuvenate the colour if it has faded and you can use foaming cleaners if they are formulated for suede.